Heroes of Might and Magic V
Heroes of Might and Magic V
Downloads insgesamt:
353 (letzte Woche)
Betriebssystem:
Windows XP/Vista/7/8/10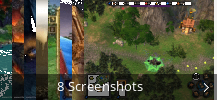 Beschreibung
Sie können Heroes of Might and Magic V 3.1 kostenlos von unserem Software-Portal herunterladen. Die unter den Benutzerinnen und Benutzern dieser Software beliebtesten Versionen sind 3.1, 3.0 und 2.1.
Dieses Tool kann auch "Heroes of Might and Magic V Demo", "Heroes of Might and Magic V - Dzikie Hordy", "Heroes of Might and Magic V -" heißen. Dieses Programm ist in die Kategorie "Spiele" eingeordnet. Der eigentliche Entwickler dieses kostenlosen Programms ist NIVAL Interactive.
Unser Antiviren-Test hat ergeben, dass dieser Download sicher ist. Diese kostenlose PC-Software wurde für Windows XP, Windows Vista, Windows 7, Windows 8 oder Windows 10 entwickelt und ist mit 32-Bit-Systemen kompatibel.
Die häufigsten Dateinamen der Installationsdatei dieses Programms lauten H5_Game.exe, Autorun.exe, H5_MapEditor.exe, H5_Game_.exe, H5_Game.H5.exe, H5_Game.exe.exe, H5_Game1.exe, H5_Game dvd-nlkl.exe, H5_Game 2.exe, GPlrLanc.exe, GotP_Game.exe oder Heroes V.exe usw.
Hеroes of Might and Magic V is a part of the legendary strategy in the magic world favored by millions of gamers.

Main features:

- Cutting edge technology: For the first time, experience the world of Might & Magic in a full breathtaking 3D animated world supported by a consistent and modern graphic style.
- Deep scalable turned-based battle system for challenging and tactical combats: find out the combat system that made the success of the Heroes series or experience the brand new Dynamic Battle System.
- Choose from over 200 skills, 170 creatures' abilities and 40 spells to build up your heroes and their armies.
Falls Sie nach mehr Softwares suchen, können Sie sich u.a. solche Programme wie Heroes Of Might And Magic - In The Wake of Gods, Heroes of Might and Magic III Complete HD oder Heroes of Might and Magic II anschauen, die möglicherweise für Heroes of Might and Magic V relevant sind.
---
Das neueste Update der Information:
Neueste Aktualisierungen



Schauen Sie sich
unsere neuesten
How-To-Artikel an