Heroes of Might and Magic III
Heroes of Might and Magic III
Lizenz:
Commercial $69.95
Downloads insgesamt:
106 (letzte Woche)
Betriebssystem:
Windows XP/Vista/7/8/10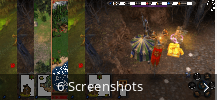 Beschreibung
Heroes of Might and Magic III 4.0 kann gratis von unserem Software-Portal heruntergeladen werden. Diese Software gehört zur Kategorie "Spiele" und Unterkategorie "Strategien". Dieser Download wurde von unseren Antivirenprogrammen durchgescannt und als virenfrei eingestuft. Der eigentliche Entwickler dieses kostenlosen Programms ist New World Computing.
Heroes of Might and Magic III is a turn-based strategic wargame, set up in a classical role-playing game Environment. It involves capturing and developing towns, gathering resources, assembling armies and sending them into combat. Each town has a theme and can only raise the type of creatures appropriate to that theme. The resources (gold, wood, ore, gems, crystal, mercury, and sulfur) can be found mostly in mines and are gathered once a day. They are used to build new buildings in your towns, to improve existing buildings, to buy armies, etc. Each army is led by a hero and consists of up to seven stacks of creatures raised in towns or recruited in the countryside. The armies are sent into tactical combat, which can occur either in the countryside or in towns.
Falls Sie nach mehr Softwares suchen, können Sie sich u.a. solche Programme wie Heroes of Might and Magic V, Nanny Mania oder Sally's Studio anschauen, die möglicherweise an Heroes of Might and Magic III ähnlich sind.
---
Das neueste Update der Information:
Neueste Aktualisierungen



Schauen Sie sich
unsere neuesten
How-To-Artikel an