eXtreme Burner - AVR
A graphical user interface suite for different clock sources
Downloads insgesamt:
15,607 (letzte Woche)
Betriebssystem:
Windows XP/Vista/7/8/10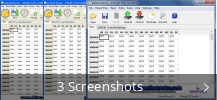 Beschreibung
Work with multiple types of clock sources for optimization and modification of software components. The program is compatible with all types of oscillators, external crystals, resonators, AVR variants, etc. Removing or customizing preset clock options is possible.
Sie können eXtreme Burner - AVR unter Windows XP/Vista/7/8/10 32-Bit installieren. Dieser Download wurde von unseren eingebauten Antivirenprogrammen durchgescannt und als virenfrei eingestuft. Die neueste Installationsdatei, die hier heruntergeladen werden kann, hat die Größe von 2.8 MB.
Diese Software gehört zur Kategorie "Programmierung" und Unterkategorie "IDE". Die Installationsdatei dieses Programms hat häufig folgenden Dateiname :AVRProg.exe. Diese kostenlose Software wurde ursprünglich von eXtreme Electronics, India entwickelt. Folgende Versionen werden von den Benutzerinnen und Benutzern dieses Programms am häufigsten heruntergeladen: 1.4, 1.3 und 1.2.
The eXtreme Burner- AVR is a full graphical user interface (GUI) AVR series of MCU that supports several types of clock sources for various applications. It enables you to read and write a RC Oscillator or a perfect high speed crystal oscillator and you can select from the following clock sources:
- external Clock.
- calibrated Internal RC Oscillator.
- external RC Oscillator.
- external Low Frequency Crystal.
- external Crystal/Ceramic Resonator.
Falls Sie nach mehr Softwares suchen, können Sie sich u.a. solche Programme wie Mono for Windows, SharpDevelop oder Source Insight anschauen, die möglicherweise an eXtreme Burner - AVR ähnlich sind.
---
Das neueste Update der Information:
Neueste Aktualisierungen



Schauen Sie sich
unsere neuesten
How-To-Artikel an