eTimeTrackLite
Monitors and manages time attendance data
Hoppla!
Der Download-Link ist weg
Downloads insgesamt:
25,242 (letzte Woche)
Betriebssystem:
Windows XP/Vista/7/8/10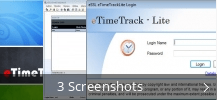 Beschreibung
Manage disciplinary and performance monitoring operations by controlling attendance time via the utility checking the status of a registered individual. Authorization is performed via fingerprint and palm scanning, card reading, RFID support, etc. Logs are kept, reports are generated for review.
Dieses Programm gehört zur Kategorie "Bürosoftware". Der eigentliche Entwickler dieser kostenlosen Software ist essl.
The eTimeTrack Lite is a time attendance tool that can be used with fingerprints, palms, Irirs, card readers with RFID support, etc. The software provides reports and logs to better maintain access to a certain area. You will also need a proper device to connect all these devices.
Falls Sie nach mehr Softwares suchen, können Sie sich u.a. solche Programme wie Timer anschauen, die möglicherweise für eTimeTrackLite relevant sind.
---
Das neueste Update der Information:
Neueste Aktualisierungen



Schauen Sie sich
unsere neuesten
How-To-Artikel an