SpongeBob and The Clash of Triton
Lizenz:
Commercial $19.95
Downloads insgesamt:
261 (letzte Woche)
Betriebssystem:
Windows XP/Vista/7/8/10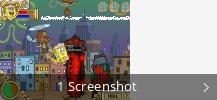 Beschreibung
Diese Software gehört zur Kategorie "Spiele" und Unterkategorie "Familie". Die Standard-Dateinamen der Installationsdatei dieses Programms lauten Triton.exe, Launcher.exe, SpongeBob and the Clash of Triton.exe, SpongeBobClashTriton.exe oder Triton-WT.exe usw.
SpongeBob and The Clash of Triton kann auf den 32-Bit-Versionen der Windows XP/Vista/7/8/10-Umgebung installiert werden. Dieses kostenlose Tool wurde ursprünglich von Nova Development. erstellt. Unser Antiviren-Test hat ergeben, dass dieser Download sauber ist. Folgende Versionen werden von den Benutzerinnen und Benutzern dieses Programms am häufigsten heruntergeladen: 32.0 und 1.0.
Triton has imprisoned his own father Neptune and unleashed an army of Krabby patties on Bikini Bottom. The entire town is under his command and only two heroes can do anything about it.

Unfortunately, they are nowhere to be found so now it's up to SpongeBob and Patrick. But can they stop their fooling around long enough to save the town, climb mount Triton, and put an end to the villain's spell?

Unleash the power of the gods in order to restore Bikini Bottom. Play as different versions of SpongeBob and Patrick, and level them up with unique special powers until they are virtually unstoppable.

Demolish Triton's warped cities, fight off a variety of Krabby Patty soldiers, including Boss characters, and free Neptune.
Falls Sie nach mehr Softwares suchen, können Sie sich u.a. solche Programme wie Sean's Magic Slate, PySyCache oder SpongeBob SquarePants Obstacle Odyssey anschauen, die möglicherweise für SpongeBob and The Clash of Triton relevant sind.
---
Das neueste Update der Information:
Neueste Aktualisierungen



Muvizu
Bildbetrachter und Bildbearbeiter
Schauen Sie sich
unsere neuesten
How-To-Artikel an