Shortcut Virus Remover
Detects and removes the shortcut viruses
Hoppla!
Der Download-Link ist weg
Downloads insgesamt:
88,628 (letzte Woche)
Betriebssystem:
Windows XP/Vista/7/8/10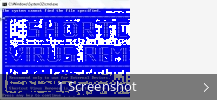 Beschreibung
Maintain the functionality of your operating system by scanning it and identifying all present or potentially dangerous shortcut virus threats. The utility is compatible with standard hard drives and external data storages. It offers automated or manual removal of hazards.
Unser Software-Portal stellt Ihnen Shortcut Virus Remover 3.1 als kostenlosen Download zur Verfügung. Shortcut Virus Remover gehört zur Kategorie "Sicherheit und Schutz". Der eigentliche Entwickler dieses kostenlosen Programms ist prokash.
The application uses Windows commands to delete the virus which creates shortcuts. Shortcut Virus Remover is delivered as a BAT file. When it's launched the LNK files are removed from computer and the virus deleted as well. You can run the software for all the drives connected to the PC that are infected with the virus.
Falls Sie nach mehr Softwares suchen, können Sie sich u.a. solche Programme wie GNU Privacy Guard, STOPzilla! AVM 2013 AntiVirus Suite oder Dr.Web Anti-virus anschauen, die möglicherweise an Shortcut Virus Remover ähnlich sind.
---
Das neueste Update der Information:
Neueste Aktualisierungen



Schauen Sie sich
unsere neuesten
How-To-Artikel an