Road Rash 3
An arcade motorcycle racing simulation game
Downloads insgesamt:
7,107 (letzte Woche)
Betriebssystem:
Windows 2000/XP/Vista/7/8/10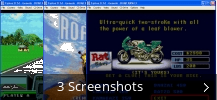 Beschreibung
Take control of an aspiring racer and practice in challenges where you must win at least a third place to succeed, then advance your career by moving from track to track with increased difficulty. Arcade racing mechanical and collision physics are the selling points of the game.
Road Rash 3 3.1.0 kann gratis von unserem Software-Portal heruntergeladen werden. Die Installationsdateien dieses Programms sind häufig unter den Namen Fusion.exe, Gens32Surreal.exe oder ROADRASH.EXE usw. gefunden. Dieses Programm gehört zur Kategorie "Spiele" und Unterkategorie "Arcade".
Die neueste Installationsdatei nimmt 1.6 MB Speicherplatz ein. Der eigentliche Entwickler dieser kostenlosen Software ist Pyramid-Games. Die beliebtesten Versionen dieses Tools sind 3.1 und 1.0. Diese kostenlose PC-Software wurde für Windows 2000, Windows XP, Windows Vista, Windows 7, Windows 8 oder Windows 10 entwickelt und ist mit 32-Bit-Systemen benutzt werden.
Road Rash 3 - Try taking the lead in every race. You must rank 3rd place or better to qualify . You must qualify on every track to move on to the next course, or level. On every race, you get paid a certain amount of money. The higher your rank in the end, the more cash you get. You can use this cash to upgrade your current bike, or to buy a new one. Hitting players can push your rank up, because you knock them behind.

Punch, kick, and use a weapon to make another racer fall behind in the race. You can get weapons by stealing them from other racers. You must also watch out for cops. If you stop, you will get busted, and that will cost you some money. You will get busted if you simply stop or fall of your bike.
Falls Sie nach mehr Softwares suchen, können Sie sich u.a. solche Programme wie SuperTux, DX-Ball 2 oder Chicken Invaders: Revenge of the Yolk Christmas Edition anschauen, die möglicherweise an Road Rash 3 ähnlich sind.
---
Das neueste Update der Information:
Neueste Aktualisierungen


Schauen Sie sich
unsere neuesten
How-To-Artikel an