Project IGI
Move in stealth and eliminate enemy targets
Downloads insgesamt:
11,939 (letzte Woche)
Betriebssystem:
Windows XP/Vista/7/8/10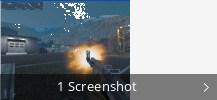 Beschreibung
Infiltrate into the enemy base, move tactically and in stealth, silently killing threats. A first-person shooter game, where you are equipped with knives, pistols and assault rifles, ready to take on anyone who wants to stop you from saving the world, as an ex-Russian Colonel plans to launch nuclear attack against Europe.
Unser Software-Portal stellt Ihnen Project IGI 35.0 als kostenlosen Download zur Verfügung. Unsere Antiviren-Analyse hat ergeben, dass dieser Download sicher ist. Die beliebtesten Versionen dieses Tools sind 33.0, 3.1 und 1.2.
Der eigentliche Entwickler dieses kostenlosen Programms ist Innerloop Studios A/S. Die Installationsdateien dieses Programms sind generell als igi2.exe, firefox.exe, chrome.exe, torch.exe oder PlayFreeBrowser.exe usw. bekannt. Project IGI eignet sich für 32-Bit-Version von Windows XP/Vista/7/8/10. Diese Software wird manchmal unter anderen Namen, wie "IGI Subtitler", "IGI", "IGI Demo", angeboten. Dieses Programm gehört zur Kategorie "Spiele" und Unterkategorie "Action".
Pursue and defeat a homicidal ex-Russian Colonel before she turns Europe into a nuclear wasteland in Project IGI: I'm Going In.

This first-person shooter emphasizes stealth and guile instead of massive firepower. Jones has to sneak into the toughest military installations in Eastern Europe, and once inside, use his skills in thievery, computer hacking, sabotage, and reconnaissance to stop the madwoman.

Theapons. If the odds get stacked too high against him, he can call in a napalm strike via his Map Computer.

Upon release the game garnered mixed reviews due to a number of shortcomings, such as poorly programmed Artificial intelligence, lack of a mid-game save option, and the lack of multiplayer features.
Falls Sie nach mehr Softwares suchen, können Sie sich u.a. solche Programme wie Alien Terminator, Saints Row®: The Third™ oder Pirate101 anschauen, die möglicherweise an Project IGI ähnlich sind.
---
How to use a sniper rifle in project IGI
Sniper rifles in project IGI require pressing a specific button to activate the scope. Zooming is not available in the standard rifle model.
How to save the game's progress in Project IGI
Project IGI does not support manual saving or the player's progress during missions. The only saves are the ones made between missions.
How co climb ladders in Project IGI
The ladders in Project IGI are accessed by pressing and holding the interaction button. This is possible in direct proximity and facing the ladders.
---
Das neueste Update der Information:
Neueste Aktualisierungen


Schauen Sie sich
unsere neuesten
How-To-Artikel an