Need For Extreme 3D
Downloads insgesamt:
5,047 (letzte Woche)
Betriebssystem:
Windows XP/Vista/7/8/10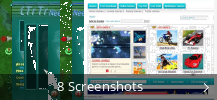 Beschreibung
Need For Extreme 3D 1.0 kann kostenlos von unserem Software-Portal heruntergeladen werden. Dieser Download wurde von unseren Antivirenprogrammen geprüft und als sicher eingestuft. Dieses Programm gehört zur Kategorie "Spiele" und Unterkategorie "Rennsport".
Need For Extreme 3D hat unter anderem folgende Alternativnamen: "Need For Extreme 3D Powered by AdVantage", "Need For Extreme 3D and more Games". Der eigentliche Entwickler dieses kostenlosen Programms ist MyPlayCity.com.
Die unter den Benutzerinnen und Benutzern von Need For Extreme 3D beliebtesten Versionen sind 2.1, 2.0 und 1.0. Die häufigsten Dateinamen der Installationsdatei dieses Programms lauten Need For Extreme 3D.exe, nfe3d.exe, Addictive Angling.exe, game.exe oder idcfgh.exe usw. Sie können Need For Extreme 3D unter Windows XP/Vista/7/8/10 32-Bit einrichten.
Need For Extreme 3D - a new 3D race game with 3D person view from above that is original for this genre. The game purpose is to be the first. There are two game modes - Tournament and Single Race. You should pass the tracks one by one in the Tournament mode. To pass to the next track you should be the first in the previous one. You can choose any track in the Single Race mode.
Falls Sie nach mehr Softwares suchen, können Sie sich u.a. solche Programme wie Need For Extreme, Ferrari Virtual Race oder Rocket League anschauen, die möglicherweise an Need For Extreme 3D ähnlich sind.
---
Das neueste Update der Information:
Für Mac herunterladen

Neueste Aktualisierungen



Schauen Sie sich
unsere neuesten
How-To-Artikel an