Midtown Madness
An racing game with a simulated open-world environment
Entwickler:
Angel Studios
Downloads insgesamt:
5,732 (letzte Woche)
Betriebssystem:
Windows XP/Vista/7/8/10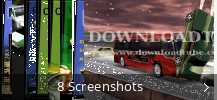 Beschreibung
Explore the interactive world of authentically recreated Chicago and take part in races or other challenges by controlling and modifying one of the available vehicles. The game features the interactively changing weather and other environmental conditions.
Midtown Madness 3.0 steht als kostenloser Download in unserem Software-Portal zur Verfüfung. Diese Software gehört zur Kategorie "Spiele" und Unterkategorie "Rennsport".
Die Installationsdateien dieses Programms sind generell als midtown.exe, midtrial.exe, midtowndfx.exe, Midtownw.exe oder midtrialdfx.exe usw. bekannt. Die Größe der neuesten zum Herunterladen verfügbaren Setup-Datei beträgt 25.8 MB.
Dieses PC-Programm funktioniert mit 32-Bit-Version von Windows XP/Vista/7/8/10. Dieser Download wurde von unseren Antivirenprogrammen durchgescannt und als virenfrei eingestuft. Die unter den Benutzerinnen und Benutzern von Midtown Madness beliebtesten Versionen sind 3.0, 1.2 und 1.0. Diese Software hat unter anderem folgende Alternativnamen: "Midtown Madness Trial", "Microsoft Midtown Madness Setup", "Microsoft Midtown Madness". Der eigentliche Entwickler dieses kostenlosen Programms ist Angel Studios.
Like the award-winning Motocross Madness and Monster Truck Madness series, Midtown Madness takes you behind the wheel. The Madness you've been waiting for is here. If you haven't had a chance to careen through the streets of Chicago yet, here's your chance! Don't miss out!

The trial version includes three of the game's ten vehicles; including the city bus, the 99 Ford Mustang, and the Panoz Roadster. Wreckless racing gamers wishing to test drive Midtown Madness will be able to do so in cruise mode, Blitz race, Checkpoint race, and Cops and Robbers.

The Midtown Trial Version includes the same great multiplayer options that the retail version has. Except for cops and robbers, the events above are available both single and multiplayer.
Falls Sie nach mehr Softwares suchen, können Sie sich u.a. solche Programme wie 18 Wheels of Steel Pedal to the Metal, F1 Racing oder Dirt Bikes Super Racing anschauen, die möglicherweise für Midtown Madness relevant sind.
---
Das neueste Update der Information:
Neueste Aktualisierungen



Schauen Sie sich
unsere neuesten
How-To-Artikel an