Microsoft Visual Basic
Programming language to create Windows applications
Downloads insgesamt:
59,092 (letzte Woche)
Betriebssystem:
Windows XP/Vista/7/8/10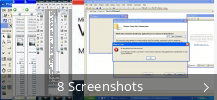 Beschreibung
Create your own Windows applications and automation scripts. Use the Code View to write the code lines for the program and the Design View to make a graphical user interface for it, complete with Flash elements. The tool also includes an offline version of the MSDN website with programming help and examples.
VB6.EXE, VB5.EXE, ZipExeStub.exe, VB62.EXE und VB60.EXE sind die häufigsten Installationsdateinamen für dieses Programm. Der eigentliche Entwickler dieser kostenlosen Software ist Microsoft.
Dieser Download wurde von unseren eingebauten Antivirenprogrammen durchgescannt und als frei von Schadsoftwares eingestuft. Dieses Programm kann als "Programmierung" beschrieben werden. Sie können Microsoft Visual Basic unter Windows XP/Vista/7/8/10 32-Bit und 64-Bit installieren.
Die unter den Benutzerinnen und Benutzern dieses Programms beliebtesten Versionen sind 10.0, 9.0 und 8.0. Das neueste Installationspaket nimmt 3.1 MB Speicherplatz ein. Dieses Tool kann auch "Visual Basic SP6 4", "Visual Basic", "Microsoft Visual Basic 2005" heißen.
Visual Studio is extensible by nature, ultimately consisting of a core "shell" that implements all commands, windows, editors, project types, languages, and other features through dynamically loadable modules called "packages".[19][20] Microsoft encourages and fosters third party partners to create modules for Visual Studio via the free VSIP program. However, according to Dan Fernandez, Microsoft "made a business decision to not allow 3rd party extensibility in Express".

Microsoft Visual Studio Express is a set of freeware integrated development environments (IDE) developed by Microsoft that are lightweight versions of the Microsoft Visual Studio product line.
Express Editions were conceived beginning with Visual Studio 2005.
Falls Sie nach mehr Softwares suchen, können Sie sich u.a. solche Programme wie EditPlus, VMware VIX oder BlueJ anschauen, die möglicherweise an Microsoft Visual Basic ähnlich sind.
---
How to create a calculator application with Microsoft Visual Basic
Make a calculator app by selecting a new project, designing the GUI, coding relevant buttons. There's an option of checking functionality before launch.
How to make games based on Microsoft Visual Basic
Collect and create code for designing and testing interactive and accessible levels. Test the playable game, then upload the results.
How to enable macros in Microsoft Visual Basic
Macros are automatically disabled and must be enabled in every application manually. This is done by accessing settings and enabling macros.
---
Das neueste Update der Information:
Neueste Aktualisierungen


Schauen Sie sich
unsere neuesten
How-To-Artikel an