Guardian AntiVirus
Protects your computer from online threats
Entwickler:
Gaurdian Antivirus Software, Quick Heal Technologies Pvt. Ltd.
Downloads insgesamt:
25,425 (letzte Woche)
Betriebssystem:
Windows XP/Vista/7/8/10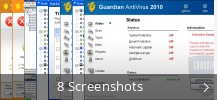 Beschreibung
Maintain and check your OS for viruses, trojans, spyware, hacker attacks and other kinds of online threats by scanning the drives, checking and optionally blocking emails and attachments, monitoring Internet downloads, etc. Automated removal or guaranteeing of identified malware is available.
Sie können Guardian AntiVirus 15.0 kostenlos von unserem Software-Portal herunterladen. Folgende Versionen werden von den Benutzerinnen und Benutzern dieses Programms am häufigsten heruntergeladen: 15.0, 14.0 und 13.0.
Dieses kostenlose PC-Programm wurde für Windows XP, Windows Vista, Windows 7, Windows 8 oder Windows 10 entwickelt und ist mit 32-Bit- und 64-Bit-Systemen benutzt werden.
Die Guardian AntiVirus Installationsdatei heißt häufig SCANNER.EXE, ACAPPAA.EXE, UINSMF64.EXE, REMIND.EXE oder QUICKUP.EXE usw. Dieses Programm ist als "Sicherheit und Schutz" kategorisiert. Unsere eingebauten Antivirenprogramme haben diesen Download durchgescannt und ihn als 100 % sicher eingestuft. Der eigentliche Entwickler dieser kostenlosen Software ist Gaurdian Antivirus Software, Quick Heal Technologies Pvt. Ltd.
Guardian AntiVirus protects your PC from viruses, spyware and hackers.
Features:
- Scans and removes viruses, worms, trojans and other threats that may sneak into your system through removable drives, email attachments or internet downloads.
- Detects, cleans and blocks spyware thus automatically preventing identity theft.
- Scans registry, files and folders at lightning speed, detecting and cleaning Spyware, Adwares, Roguewares, Dialers, Riskwares and other potential threats.
- Detects and cleans rootkits proactively by a deep system scan.
- Protects Guardian's files, folders, configurations and registry entries from getting tampered by malicious threats.
Falls Sie nach mehr Softwares suchen, können Sie sich u.a. solche Programme wie Sophos Anti-Virus, Norton PC Checkup oder AdGuard anschauen, die möglicherweise für Guardian AntiVirus relevant sind.
---
How to renew the license of Guardian AntiVirus
Enter the appropriate license menu in the settings and check the status. Or, after notification of expiry, click on the message to purchase a new one.
How to disable protection of Guardian AntiVirus
Access the settings and uncheck the self-preservation features. Exit the application completely via the control panel by selecting to shut it down.
How to update the Guardian AntiVirus database
The databases are updated automatically by monitoring the dedicated server. Manual updating after notification is possible in the settings menu.
---
Das neueste Update der Information:
Neueste Aktualisierungen


Schauen Sie sich
unsere neuesten
How-To-Artikel an