Grand Theft Auto Snow Andreas
Grand Theft Auto Snow Andreas
A modification of GTA: San Andreas adding snow
Downloads insgesamt:
12,099 (letzte Woche)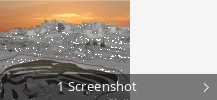 Beschreibung
Play the modified version of the classic action simulator Grand theft Auto: San Andreas and experience the open-world environment now covered in snow. The mod changes vehicle grip physics, making roads slippery to provide a realistic driving experience.
Unser Software-Portal stellt Ihnen Grand Theft Auto Snow Andreas 3.8 als kostenlosen Download zur Verfügung. Der eigentliche Entwickler dieser kostenlosen Software ist SPYFAN. Dieses Programm gehört zur Kategorie "Spiele" und Unterkategorie "Dienstprogramme". Unser Antiviren-Scan hat ergeben, dass dieser Download frei von Schadsoftware ist.
Expand the world of GTA: San Andreas with a slew of vehicles and mods. The concept behind this modification was the idea to change the whole map. The grip is global reduced at 30% for all for all vehicles and also those who may be installed afterwards.
Falls Sie nach mehr Softwares suchen, können Sie sich u.a. solche Programme wie Torque ShowTool Pro, Sega Cue Maker oder TibiaTek Bot anschauen, die möglicherweise für Grand Theft Auto Snow Andreas relevant sind.
---
Das neueste Update der Information:
Neueste Aktualisierungen



Schauen Sie sich
unsere neuesten
How-To-Artikel an