Farm Frenzy
Downloads insgesamt:
2,516 (letzte Woche)
Betriebssystem:
Windows XP/Vista/7/8/10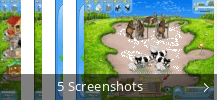 Beschreibung
Farm Frenzy 4.0.05 steht als kostenloser Download in unserem Software-Portal zur Verfüfung. Diese Software gehört zur Kategorie "Spiele" und Unterkategorie "Strategien". Der eigentliche Entwickler dieses kostenlosen Programms ist Zylom Games. Dieser Download wurde von unseren Antivirenprogrammen durchgescannt und als frei von Schadsoftwares eingestuft.
Slip into a pair of overalls and try your hand at running a farm! From tending to the fields where your cows graze to gathering eggs for sale at the town market, Farm Frenzy is as stimulating as the real thing, only you won't have to experience the nasty smells! You will, however, be required to invest the money you earn in new equipment. Building a cheese dairy, for example, allows you to process your milk on the spot and make even more cash!To beat a level in Farm Frenzy, you must complete a specific task, such as producing a certain number of eggs. Each new level is more challenging than the last, so you must increase the capacity of your warehouse and improve the performance of your production facilities. You can even buy a larger truck capable of delivering more goods to market!
Falls Sie nach mehr Softwares suchen, können Sie sich u.a. solche Programme wie Hearthstone: Heroes of Warcraft, Pizza Frenzy oder Battlefield 3™ anschauen, die möglicherweise an Farm Frenzy ähnlich sind.
---
Das neueste Update der Information:
Neueste Aktualisierungen



Schauen Sie sich
unsere neuesten
How-To-Artikel an