FacebookMessenger
Downloads insgesamt:
22,844 (letzte Woche)
Betriebssystem:
Windows XP/Vista/7/8/10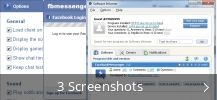 Beschreibung
Unser Software-Portal stellt Ihnen FacebookMessenger 2.0 als kostenlosen Download zur Verfügung. FacebookMessenger eignet sich für 32-Bit-Version von Windows XP/Vista/7/8/10. FacebookMessenger gehört zur Kategorie "Kommunikation" und Unterkategorie "Instant-Messaging".
Die Installationsdatei dieses Programms heißt häufig Facebook Messenger.exe oder facebookmessenger.exe usw. Dieses kostenlose Programm wurde ursprünglich von FacebookMessenger, Inc. konzipiert. Die beliebteste Version von FacebookMessenger ist 2.0.
Chat with your Facebook friends right from your desktop.

Main Features:

- Facebook Independent
Stay Connected while surfing the web, watching videos, playing a game or working, Facebook Messenger allows you to use Facebook Chat without having to be logged on to Facebook.

- Fast as Lightning
IM with all your FB Friends, faster than you do on Facebook

- Free - Now & Always
All the goodies with a free

- Anywhere & Everywhere
Chat from Work | School | Home - Facebook Messenger allows you to chat even behind firewalls

- Never Miss a Friend
Get notified about Messages, Comments and Status.
Falls Sie nach mehr Softwares suchen, können Sie sich u.a. solche Programme wie FreeCall, pfingoTALK oder GroupWise anschauen, die möglicherweise an FacebookMessenger ähnlich sind.
---
In folgenden Anleitungen benutzt
This article will show you how to restore your blocked Facebook account from a Windows PC.
This guide will teach you how to share a post on all social networks.
Das neueste Update der Information:
Neueste Aktualisierungen



Muvizu
Bildbetrachter und Bildbearbeiter
Schauen Sie sich
unsere neuesten
How-To-Artikel an