F1 Racing
Downloads insgesamt:
2,847 (letzte Woche)
Betriebssystem:
Windows XP/Vista/7/8/10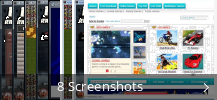 Beschreibung
Der eigentliche Entwickler dieses kostenlosen Programms ist MyPlayCity.com. Die beliebtesten Versionen dieser Software sind 3.2, 3.1 und 3.0. Die Installationsdatei dieses Programms hat häufig folgende Dateinamen :F1 Racing.exe, F1Racing.exe n game.exe usw. F1 Racing gehört zur Kategorie "Spiele". Dieses kostenlose PC-Programm wurde für die 32-Bit-Versionen der Windows XP/Vista/7/8/10-Umgebung entwickelt.
F1 Racing - breath-taking motor racing on Formula 1 cars with rivals. Various effects, superb graphics and a lot of interesting routes will catch your attention to this game. You can choose a favorite car and compete on it till the very finish of the race. Don't think it's so easy. Increasing number of strong opponents will stand on your way to the finish. The obstacles will take the time, that's limited. Pick up bonuses and life. Are you ready for a race? Go! Join your counterparts from all over the world and beat your best score! If your score is among the Top 10, you can upload it to our Web site and thousands of other players all over the world will be able to see your highscore! Are you up for the challenge? Download F1 Racing and play for free!
Falls Sie nach mehr Softwares suchen, können Sie sich u.a. solche Programme wie 18 Wheels of Steel Pedal to the Metal, Midtown Madness oder Dirt Bikes Super Racing anschauen, die möglicherweise an F1 Racing ähnlich sind.
---
Das neueste Update der Information:
Neueste Aktualisierungen



Schauen Sie sich
unsere neuesten
How-To-Artikel an