DigimonBattle
Downloads insgesamt:
109 (letzte Woche)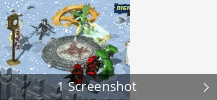 Beschreibung
Die DigimonBattle Version 1.0.0.1 steht Ihnen als kostenloser Download auf unserer Webseite bereit. Dieses Programm gehört zur Kategorie "Spiele" und Unterkategorie "Familie". Der eigentliche Entwickler dieses kostenlosen Programms ist WEMADE Entertainment.
The major feature in this game is 'Digimon', the character originally created by Bandai Group, one of the most famous Japanese toy companies.

Digimon was first created as a TV series by Toei Animation, Japan.
Toei Animation is a very well known TV animation production company in Japan, especially known for their Dragon Ball series.

All the many Digimon series were shown on network TV and on cable channels as well.
Digimon Battle is a game based on the original Digimon animation series and will be very enjoyable for Digimon fans. It will also be an exciting chance to make friends over Internet who share the same admiration for Digimon.

Digimon Battle is not violent at all. It does not show any gory scenes like slashing enemies into pieces or blood splashing all over.
Falls Sie nach mehr Softwares suchen, können Sie sich u.a. solche Programme wie Ri-li, Super Granny 3 oder Desene Animate anschauen, die möglicherweise an DigimonBattle ähnlich sind.
---
Das neueste Update der Information:
Neueste Aktualisierungen



Schauen Sie sich
unsere neuesten
How-To-Artikel an