Chicken Invaders 3 - Revenge of the Yolk
Downloads insgesamt:
737 (letzte Woche)
Betriebssystem:
Windows XP/Vista/7/8/10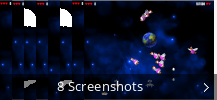 Beschreibung
Chicken Invaders 3 - Revenge of the Yolk 3.83 steht als kostenloser Download in unserem Software-Portal zur Verfüfung. Diese kostenlose PC-Software kann auf den 32-Bit-Versionen der Windows XP/Vista/7/8/10-Umgebung installiert werden. Dieses Programm ist als "Spiele" kategorisiert.
Die häufigsten Dateinamen der Installationsdatei dieses Programms lauten Launch.exe, Chicken Invaders 3.exe, CI3.exe, GH-CI3.exe oder CI3Xmas.exe usw.
Diese Software wird manchmal unter anderen Namen, wie "Chicken Invaders 3", "Chicken Invaders Revenge of the Yolk", "Chicken Invaders 3 Free Trial", angeboten. Unsere eingebauten Antivirenprogramme haben diesen Download geprüft und ihn als virenfrei eingestuft. Die beliebtesten Versionen dieser Software sind 3.76, 3.7 und 3.5. Der eigentliche Entwickler dieses kostenlosen Programms ist InterAction studios.
Intergalactic chickens invaded Earth, seeking revenge for the oppression of their earthly brethren. They came out of nowhere, and everywhere. It was only you who managed to repel the invasion, and saved humanity from an eternity of servitude.

Then, things got serious. The intergalactic chickens assaulted the solar system and tried make sure that every planet was inhabited exclusively by chickens. Yet again, it was you who took the world's fate in your ketchup-stained hands and saved the day.
Falls Sie nach mehr Softwares suchen, können Sie sich u.a. solche Programme wie Pocket Tanks, TmNationsForever oder Jewel Quest III anschauen, die möglicherweise an Chicken Invaders 3 - Revenge of the Yolk ähnlich sind.
---
Das neueste Update der Information:
Neueste Aktualisierungen



Schauen Sie sich
unsere neuesten
How-To-Artikel an