Adobe Illustrator
Create and modify vector artworks for projects
Downloads insgesamt:
17,208 (letzte Woche)
Betriebssystem:
Windows XP/Vista/7/8/10
Latest version:
15.0.128.399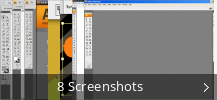 Beschreibung
Develop and edit artworks based on vector graphics for different types of projects and presentations. Load the existing imagery or draw new content from scratch. Apply various automated editing and structuring tools, adjust the artwork parameters according to your needs.
Die Adobe Illustrator Version 15.0.128.399 steht Ihnen als kostenloser Download auf unserer Webseite zur Verfügung. Folgende Versionen werden von den Benutzerinnen und Benutzern dieses Programms am häufigsten heruntergeladen: 15.1, 15.0 und 14.0.
Unsere eingebauten Antivirenprogramme haben diesen Download durchgescannt und ihn als 100 % sicher eingestuft. Diese Software gehört zur Kategorie "Bild und Graphik".
Die Installationsdateien dieses Programms sind generell als Illustrator.exe, Adobe Illustrator CS5.exe, Icon9E4017CC.exe, Illustrator-03C76B2A1BB8272EE12061DC2F5D6A42EA114628.exe oder Illustrator.exe.exe usw. bekannt.
Dieses kostenlose Programm wurde ursprünglich von Adobe Systems Incorporated entwickelt. Dieses Tool ist auch als "Adobe Illustrator CS2", "Adobe Illustrator CZ", "Adobe Illustrator CS" bekannt. Sie können diese kostenlose PC-Software unter Windows XP/Vista/7/8/10 32-Bit und 64-Bit ausführen.
Adobe® Illustrator® software helps you create distinctive vector artwork for any project. Take advantage of the precision and power of sophisticated drawing tools, expressive natural brushes, and a host of time-savers.
Design and publish HTML websites without writing code with this software from Adobe.
Falls Sie nach mehr Softwares suchen, können Sie sich u.a. solche Programme wie PhotoFiltre, XnView oder ZoomBrowser EX anschauen, die möglicherweise an Adobe Illustrator ähnlich sind.
---
How to export projects to JPEG in Adobe Illustrator
Export and save data as image files in multiple formats such as SWF, JPEG, PSD, PNG и TIFF, AutoCAD Drawing, etc. Select the preferred format in the menu.
How to create curved texts in Adobe Illustrator
Curve texts by writing them, then selecting corresponding options in the context menu. Manually adjusting the curve parameters is possible.
How to make a logo in Adobe Illustrator
Make a logo or another type of insignia by selecting relevant layers and elements, applying manual drawing tools. Output files are saved in multiple formats.
---
In folgenden Anleitungen benutzt
Das neueste Update der Information:
Neueste Aktualisierungen



Schauen Sie sich
unsere neuesten
How-To-Artikel an