Adobe Flash Player Plugin for IE
Adobe Flash Player Plugin for IE

Kostenlos
Downloads insgesamt:
67,803 (letzte Woche)
Betriebssystem:
Windows 2000/XP/Vista/7/8/10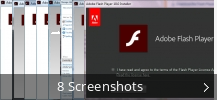 Beschreibung
Die Adobe Flash Player Plugin for IE Version 26.0.0.151 steht Ihnen als kostenloser Download in unserem Software-Portal zur Verfügung.
Dieses kostenlose PC-Programm wurde für Windows 2000, Windows XP, Windows Vista, Windows 7, Windows 8 oder Windows 10 entwickelt und ist mit 32-Bit- und 64-Bit-Systemen kompatibel. Der eigentliche Entwickler dieses kostenlosen Programms ist Adobe Systems Incorporated.
Adobe Flash Player Plugin for IE gehört zur Kategorie "Internet und Netzwerk" und Unterkategorie "Browser-Plugins".
Bridge.exe, Adobe Encore.exe, Adobe OnLocation.exe, Adobe Media Encoder.exe, Illustrator.exe, DeviceCentral.exe, Adobe DNG Converter.exe, ImageReady.exe, Photoshop.exe, ExtendScript Toolkit.exe, Adobe Media Player.exe, ActiveX.exe oder Flash Player Pro.exe sind die gebräuchlichsten Dateinamen für die Adobe Flash Player Plugin for IE Installationsdatei|Installationsdatei dieses Programms).
Dieses Tool wird manchmal auch "Adobe Flash Player 10 ActiveX", "Adobe Flash Player ActiveX", "Adobe Flash Player ActiveXp" genannt. Unser Antiviren-Scan hat ergeben, dass dieser Download virenfrei ist. Folgende Versionen werden von den Benutzerinnen und Benutzern dieses Programms am häufigsten heruntergeladen: 16.0, 15.0 und 14.0.
Adobe Flash Player Plugin for Internet Explorer lets you play Flash video, animation, and games in the web browser. Flash contents are used in almost all websites to display advertisements and video. This plugin is required to be installed in IE for accessing YouTube.
Falls Sie nach mehr Softwares suchen, können Sie sich u.a. solche Programme wie Adobe Flash Player Standalone, Windows Media Player Firefox Plugin oder Flash Movie Player anschauen, die möglicherweise für Adobe Flash Player Plugin for IE relevant sind.
---
Das neueste Update der Information:
Neueste Aktualisierungen



Free download manager
Macht das Herunterladen einfacher
Schauen Sie sich
unsere neuesten
How-To-Artikel an